The mission of Cognitell is to help our customers tackle challenging data problems and build a transformative data culture to drive operational and strategic decision-making using the latest innovations from the field of artificial intelligence. We help you unlock intelligence from data to solve specific business problems.
Regardless of the level of data maturity, your organization is at, our team is ready to step in and provide the essential skills to bring you to the next level. Our expertise in data management, data engineering, data mining, and data science will help fill any gaps in your current data pipeline to ensure you are getting the most value from this precious resource.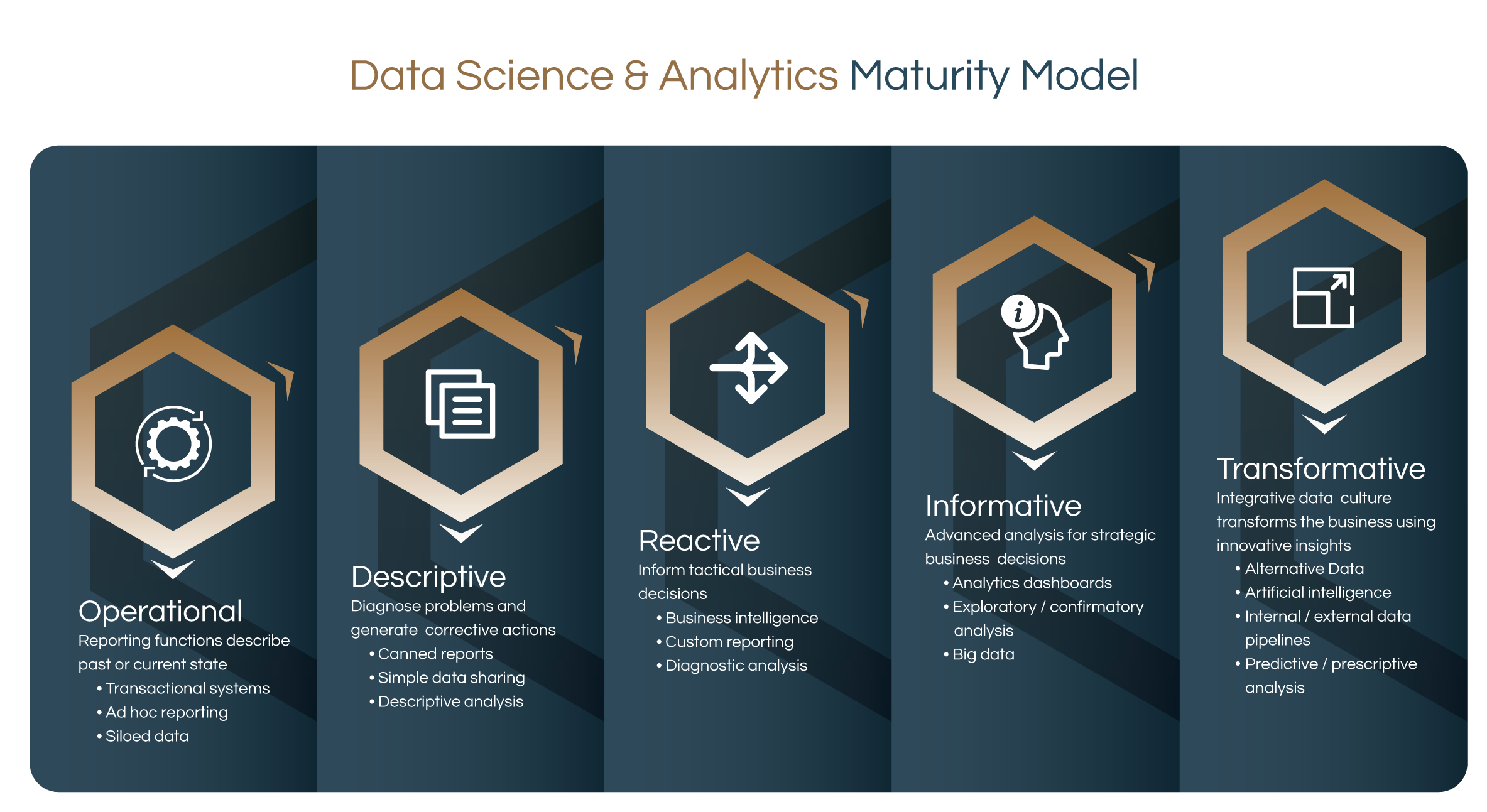 One way we help your organization move forward is to help you better understand your organizational level of maturity with regard to data science and analytics. Most organizations do better in some areas than others which can make it difficult to understand their true capability level. Higher-order data skills such as advanced analytics and data science techniques depend on lower-order skills such as process automation and data governance. Some organizations move forward with analytics initiatives using industry-standard tools such as Tableau or PowerBI without addressing some of the less glamorous shortcomings. This keeps them from effectively moving to the next level of data mining and data science modeling.
Cognitell can help your organization wherever you are. The goal is to maintain all progress and develop a maturity plan to move forward. Whether you already know what you need or would like discovery help, our experts will help solve your problems.
Cognitell provides a variety of services to help fill gaps in your existing organization. We can provide temporary remediation services to bring your team up to a sustainable level or we can develop a longer-term engagement model. The decision is yours and will likely be driven by your desire to develop and enhance internal artificial intelligence competencies or to utilize our skills to help fulfill your organization's mission.
Data management is a set of processes that include data acquisition, data validation, data storage, data quality, and data security.
Specifically, Cognitell provides services to:
Automate data collection
Develop and manage databases
Design and document transactional (OLTP) data schemas
Design, develop and implement data APIs
Create baseline data governance processes
Develop descriptive reporting processes
These activities will help mature your organization, providing you the ability to act based on an accurate view of your current state.
Data engineering is also called information engineering and is a set of processes related to extracting information from data under management.
Specifically, Cognitell provides services to:
Extract, Transform, and Load (ETL) data into data warehouses/marts
Design and document reporting (OLAP) data schemas
Create data warehouses and data marts
Utilize data cleansing processes and tools
Develop organization-wide data governance
Develop diagnostic reporting processes
These activities continue maturing your organization from a data perspective, providing the ability to act based on a deeper diagnostic analysis of your tactical decisions.
Data analytics continues the information extraction activities from data engineering with a focus on using automated pipelines and advanced reporting tools to create dashboards for analysis.
Specifically, Cognitell provides services to:
Design systems for large datasets including RDBMs, No-SQL, and streaming data
Create combined and curated data sources for comprehensive analysis
Implement master data management and data dictionary tools
Develop and deploy statistical models
Implement analytics dashboard and reporting tools such as Tableau and PowerBI
Fully automate QA/QC data quality activities with KPI monitoring
Develop exploratory and confirmatory analytic reporting processes
These activities take your organization to the next level, providing the ability to act based on forward-thinking tactical decisions.
Data science is a broad term that encompasses activities to transform your organization using artificial intelligence.
Specifically, Cognitell provides services to:
Integrate external and internal data sources
Engineer features to use in advanced models
Create end-to-end automated data quality processes
Develop an organizational data culture
Develop and deploy machine learning models including deep learning and neural networks
Develop predictive and prescriptive reporting tools
These activities will help transform your organization into a top-performing data culture, providing the ability to act based on forward-thinking strategic decisions.